0782 587 4342( Chat Only )
Free Call Back We'll call you
We'll call you back shortly
Marvellous Meghalaya
08 Days / 06 Nights
Marvellous Meghalaya is an 8 Days tour of the Indian state of Meghalaya, which is one of the beautiful Northeastern states of the country. This charming state is known for its lush natural beauty, exotic tribal villages and warm and peaceful people. As part of the tour, visit the famous Hindu temple, Kamakhya temple; explore the beautiful city of Shillong; visit the 'cleanest village in Asia(2003)', the Mawlynnong village; trek a sacred forest and marvel at a living root bridge.

Tour Nights

Guwahati: 1 nights
Shillong: 3 nights
Cherrapunji: 2 nights

Summary

Tour code: STI93
Accommodation Grade
Private Tour
Your Tour Itinerary
Day 1: UK – Guwahati
Depart from UK an overnight flight to Guwahati via Kolkata.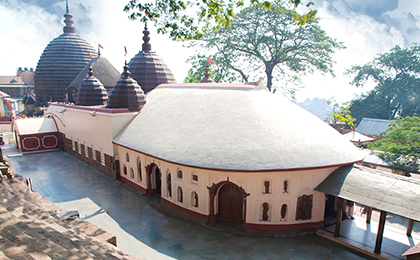 Day 2: Arrive At Guwahati
Today, you will arrive at the city of Guwahati, which is located in the Indian state of Assam. At the airport, you will be assisted and transferred to your hotel.
Later in the afternoon/evening, go for a visit to the famed Kamakhya Temple. The temple, which is located on Nilachal Hill at around 8 kms west of Guwahati city, is a Hindu temple dedicated to Hindu Goddess Kamakhya. Hindus regard Goddess Kamakhya to be an incarnation of Sati. It is one of the most revered shaktipeeths in the entire country.
According to Shiva Purana, the 'yoni' or creative organ of sati fell on Nilachal Hill when Lord Vishnu cut her dead body into 51 pieces with his suddarshan chakra. Lord Vishnu took the step in an effort to save the world from Lord Shiva's 'tandava nrittya' or dance of destruction. The 'garbhagriha' of the temple is located deep inside and it marks the holy spot. A red silken cloth covers the holy spot.
Return to the hotel for an overnight stay Read More
Day 3: Guwahati To Shillong
Today, you will go on an around 110 kms long trip from Guwahati to Shillong. The drive will take about 2-3 hours to conclude.
Post breakfast at the hotel, you will start your day's journey. During the drive to Shillong, have a photo stopover at the picturesque Umiam Lake. Continue your journey and after you reach Shillong, check-in to your hotel.
In the afternoon, go for a short tour of Shillong. During the tour, explore its various attractions including St. Catholic Cathedral, Ward's Lake, Golf Course and the Mall Road.
Check-in to your hotel for an overnight stay. Read More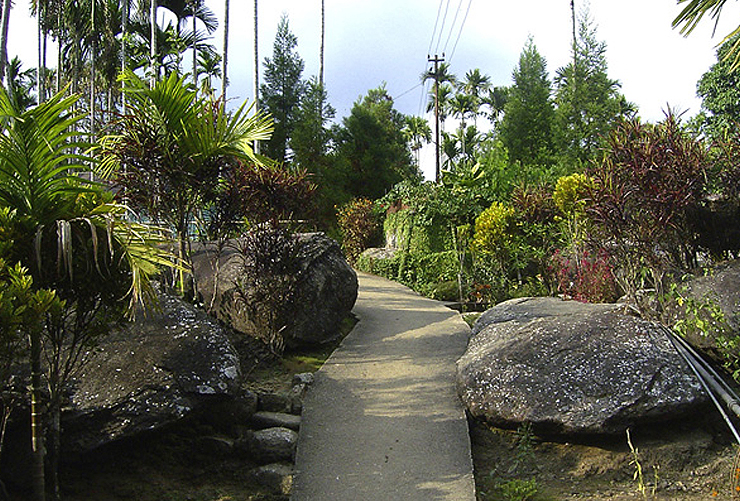 Day 4: Shillong - Mawlynnong - Shillong
Today, you will go on a return trip from Shillong to Mawlynnong, which is a 2-hour drive covering around 90 kms.
Post breakfast at the hotel, proceed with a day excursion to explore the environs of Mawlynnong. The Mawlynnong Village had earned the title of being the cleanest village in Asia in 2003 and of the cleanest village in India in 2005. Also called 'God's Own Garden', the Mawlynnong Village is located on the East Khasi Hills of Meghalaya. The village is a popular eco-tourism spot in the region and is known for its cleanliness. The entire community of the village strives to ensure that the village stays clean and offers a clean ambience to visitors. Nature lovers will fall in love with its natural beauty, while adventure enthusiasts will love a trek to the incredible living root bridge at the neighbouring village of Riwai. Here, you will also see the natural balancing rock, which is a bizarre natural phenomenon wherein a boulder is balancing on top of another rock.
The charming village becomes more picturesque in the monsoon season, when there is a thick green covering all around. During this time, waterfalls swell to give away numerous smaller streams and vibrantly coloured orchids are blooming all around. Here, you will get in insight into the how every villager makes his/her contribution in keeping the village clean. It is a common sight to see locals clean roads, collect leaves scattered around and throw garbage into the dustbin. Bamboo garbage bins dot each and every corner of the village, making cleanliness an integral part of the daily lives of the villagers and an important tradition of their culture.
Visitors can easily enjoy viewing breathtaking scenery of the Bangladesh plains, as the village lies along the Indo-Bangla border. As you explore the village and come in contact with the villagers, you will be surprised to know that most of the villagers can easily converse in English. The village enjoys a 100% literacy rate. Stop at one of its small tea shops to enjoy a steaming cup of tea and snacks.
Return to the hotel in Shillong for an overnight stay Read More
Day 5: Shillong - Mawphlang - Shillong
Today, you will go on a return trip to Mawphlang from Shillong.
After breakfast at the hotel, start your day trip to Mawphlang. This trip will be an exciting journey for nature lovers. Meghalaya's Khasi Hills are dotted with sacred forests that have been revered and preserved by local communities by traditional religious sanctions since time immemorial. One such sacred forest is the Mawphlang Sacred Forest, which is located around 25 kms away from Shillong. Once there, you can marvel at the sacred grove and the life forms it supports - plants, flowers, trees and butterflies. Later, proceed to the heritage village at Mawphlang. The village is an artificial ground created for celebrations of festivals. You can explore the architecture and beauty of traditional tribal houses at this place.
Return to the hotel in Shillong for an overnight stay. Read More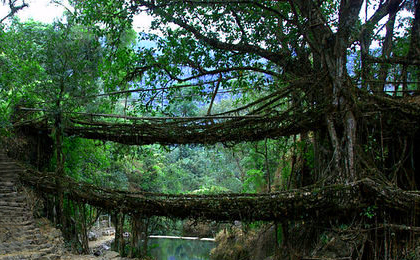 Day 6: Shillong To Cherrapunji
Today, you will go on an around 110 kms journey from Shillong to Cherrapunji, which will take about 3-4 hours to conclude.
After breakfast at the hotel, set out on your day's journey to Cherrapunji. After reaching Cherrapunji, explore its popular attractions including the Arwah Cave, Nohkalikai Falls, Koh Ramhah and the longest water fall in India, the Seven Sisters waterfall.
Check-in to your hotel/resort at Cherrapunji for an overnight stay.
You have the rest of the day at your leisure to spend as you like Read More
Day 7: At Cherrapunji
Today, post breakfast, you will go for a half-day trek to visit the Double Decker Living Root Bridge. You will be accompanied by our expert guide into the lush forest to visit the incredible bridge, which is located deep inside the forest. The trek will take around 2-3 hours to reach the site, depending upon the level of physical fitness of the visitor. The trek will take you across a path of rocky steps, ramp and winding trails. At the site, have an enjoyable picnic lunch sitting close to the stream.
Return to your hotel/resort for an overnight stay.
You have the evening at your leisure to spend it as you like. Read More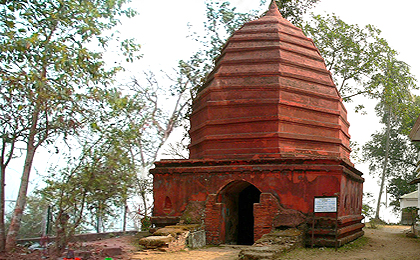 Day 8: Cherrapunji – Guwahati - UK
Today, you will drive back to Guwahati – a journey of around 160 kms that will take about 4-5 hours to conclude.
After breakfast at your hotel/resort, start your return journey to Guwahati and reach directly to the airport. At the airport, board your onward flight to UK via Kolkata with sweet memories. Your journey comes to an end here.
Period of travel

Price (pp)

Single Room Supp (pp)

01 Feb - 15 Apr

£315

£175
Period of travel

Price (pp)

Single Room Supp (pp)

01 Feb - 15 Apr

£395

£245
Kolkata served as the capital of British colonial India and till this day retains its heritage of colonial architecture. In this city of contrasts, slums coexist alongside the dynamic new-town suburbs, multitude of air-conditioned shopping malls and some of the best eateries of India.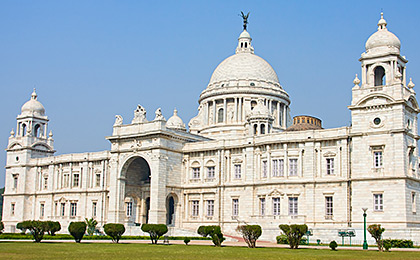 Day 1: To Kolkata
Arrival in Kolkata and transfer to hotel for 3 nights stay in Kolkata.
Day 2: Kolkata
Early in the morning visit the flower market on the banks of the river Hoogly in Howrah and take a boat cruise (optional). Afternoon tour of the city including the Victoria Memorial, St Paul's Cathedral, the Marble Palace and the Indian Museum, with one of the best collections of Indian art.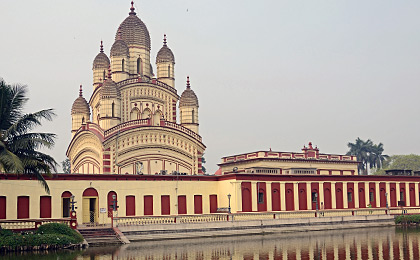 Day 3: Kolkata
Full Day tour of Kolkata.
Day 4: To UK
Post breakfast, transfer to the International airport in Kolkata towards your onward journey to UK with sweet memories.
Dates & Prices
Period of travel

Price (pp)

Single Room Supp (pp)

01 Feb - 22 Mar

£1285

£435
Tour Highlights
Visit the revered Hindu temple of Guwahati, the Kamakhya temple
Explore the beautiful city of Shillong
Have a short photo-stopover at the picturesque Umiam Lake enroute to Shillong
Trek to the Double Decker Living Root Bridge in Cherrapunji
Get up, close with a village during an excursion to the Mawlynnong Village, which was named the cleanest village in Asia in 2003 before exploring the Mawphlang Sacred Forest
what's included?
International Flights: Return economy class International flights from UK. Supplement may apply from regional airports.
Domestic Flights: Economy class domestic flights within India.
Assisted Transfers: All Airport and train transfers as specified by a chauffeur driven car inclusive of representative assistance. Where courtesy transfers are provided by the hotel representative assistance may not be available in some places.
Services of Local Agent & Tour Guide: Services of a local agent in all major cities and an English speaking guide during sightseeing as specified inclusive of entry fee to the monuments.
Accommodation: Room with attached private facilities.
Meal Plan: Bed & Breakfast at all places.
Taxes:All applicable taxes and service charges.
what's Not included?
Travel insurance: We recommend you take a comprehensive travel insurance to cover your holiday at the time of booking the tour.
Visa: UK citizens require entry visas for India. We can obtain visa on your behalf for a nominal fee.
Personal Expenses: Such as laundry, telephones calls, hard & soft drinks, meals other then specified, beverages and mineral water etc
Camera fee: Still and video camera fee at monuments and game parks.
Tips anywhere: To drivers, porters, bellboys, guides & waiters etc.
Free Days: Any car arrangements on free days / days at leisure.
Any items not mentioned in the itinerary and inclusions.
ADDITIONAL INFORMATION
Prices above are per person in pounds sterling (£) based on twin sharing.