+44 333 300 3000( Chat Only )
Free Call Back We'll call you
We'll call you back shortly
* Offer valid for selected dates | Subject to Availability | Terms and Conditions Apply
Prison Island Tour
Half Day Tour
The half day tour will take you on an expedition of the famous Prison Island, also known as the Changuu Island. Around 30 minutes by boat from Stone Town, Prison Island offers an impressive blend of history and nature. Visit and admire the tranquillity and natural beauty. Spot giant tortoises and spend time feeding them. The place is also popular for its spectacular coral reefs.
Tour At a Glance
Snorkel and explore the coral reefs.
Spot with the giant tortoises and feed them.
Spot wildlife in the forested interiors, including colourful peacocks, bats, and butterflies.
Tour code: STTZ05
Group Tour
Itinerary details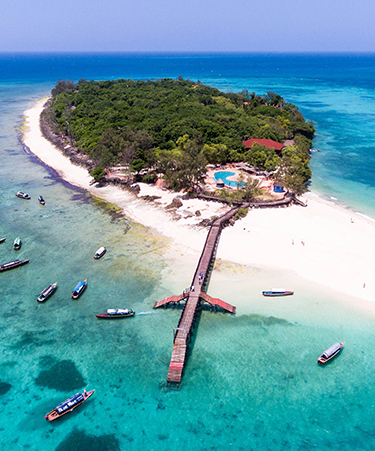 Prison Island Tour
Prison Island was owned by an Arab slave trader of Zanzibar who intended using it as a detention facility for obstinate slaves. Instead, it ended up being used as a quarantine station for yellow fever epidemics. Later, the British bought the island and constructed a jail here, after which the island came to be known as the Prison Island. Nowadays, this islet features a restaurant, the Aldabra Giant Tortoise sanctuary, a rickety wooden bridge as well as the ruins of the jail. Giant tortoises, with an average weight of 200kgs, walk with absolute patience between the trees. Descendants of four tortoises sent as a gift from Seychelles by a British governor in 1919, some of these tortoises are more than 100 years old now! Children visiting the island were allowed to ride these tortoises before they were put on the IUCN Red List for their vulnerability. Now they can only be fed, beware of their beaks though! Snorkelers must explore the marvellous coral reefs found close to the Prison Island. The island is also a great place for sunbathing and swimming. A morning city tour of Zanzibar can be followed by a Prison island visit for a calming effect on the senses after walking through Zanzibar's busy roads.  Read More
What's Included?
Excursion by shared vehicle.
Operated from Stone Town & West Coast hotels.
Services of English speaking driver-guides.
What's not Included?
Any items not mentioned in the itinerary and inclusions.
Additional Information
Prices above are per person in pounds sterling (£) based on twin sharing.
* Offer valid for selected dates | Subject to Availability | Terms and Conditions Apply